Extraordinary Cruises!
Why cruise? You can have the vacation of a lifetime, see the world, completely unwind, take a walk on the wild side, dance the night away, feast on fabulous cuisine, learn something new, make friends, bond with your family, steal quiet moments with your spouse. Whatever your heart desires, is yours, when you choose to cruise.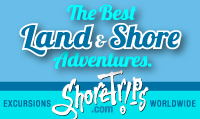 Weekly Cruise Specials
These major suppliers provide our site with fantastic weekly specials. They change every week, so come back often to see what is on sale. Each supplier has different rules on when they post the specials and when you can purchase them. Contact us if you have any questions.