Itinerary
(Subject to Change)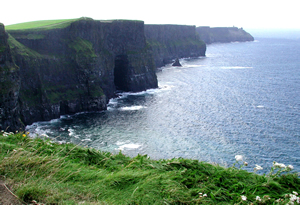 Day 1: May 19: USA / Dublin: Depart today on Overnight transatlantic flight to Dublin, Ireland.

Day 2: May 20: Upon arrival you will shuttle to the hotel for a rest and overnight.
Hotel: Radisson Blu Airport Hotel
Day 3: May 21: After Breakfast, we will check out and head to the city center of Dublin to enjoy an driving tour of St. Patrick's, Phoenix Park, Georgian Doors, and much more You will have time for lunch and then afternoon is free to have lunch and then we will drive through the magnificent scenery to Cork. Cork is Ireland's second largest city set on the River Lee, which divides into two branches through the city center. In the city center you may like to join the busy shoppers along Mac Curtain and Patrick Streets and see the Crawford Art Gallery and Paul Street, known for its trendy restaurants and shops of all types.
Hotel: River Lee, Breakfast & Dinner.

Day 4: May 22: We will drive just a few miles to Blarney where you will have time to kiss the famed "stone of eloquence." Also visit the Blarney Woolen Mills, which have an excellent range of Irish products. The shopping capital of Ireland! Lunch on your own and then return to Cork. Afternoon at leisure.
Hotel: River Lee, with Breakfast & Dinner

Day 5: May 23: This morning we will drive a short distance to the east of Cork to Cobh, the harbor town for large ships. Visit the Cobh Heritage Centre, which depicts the varied history of emigration from Ireland and many European countries to the United States over the past 150 years. Cobh was the last port of call for the "Titanic" and many liners that carried emigrants to the New World. This informative display is housed in the rail station through which all of the Irish emigrants had to pass.
Next we will proceed to Kinsale, a popular yachting center and an attractive town with brightly painted houses and flowers. In the center see the Old Courthouse, now a regional museum Kinsale is renowned as a gourmet capital and the town abounds with excellent restaurants and cafes, mostly located on Main Street. Time for lunch and then return to Cork.
Hotel: River Lee, Breakfast & Dinner.
Day 6: May 24: After breakfast; we will checkout and depart for Killarney, making a stop in the historical town of Macroom, it has a turbulent but fascinating history – this area was hit extremely hard during the Irish famine in the 19th century and was caught up in fierce battles from the War of Independence and Civil War to the Battle of Macroom (1650 AD) and historic clan warfare. After check in at hotel, afternoon at leisure.
Hotel: Killarney Plaza, Breakfast & Dinner.
Day 7: May 25: After breakfast we will drive out to the town of Dingle and on to Slae Head at the western tip of the peninsula. This excursion will give you breathtaking views of the mountains and coastline all along the peninsula. See the early settlement of the monks stone houses. Return to Killarney for time on your own.
Hotel: Killarney Plaza Hotel, Breakfast.
Day 8: May 26: Sightseeing tour of Kenmare. Afternoon at leisure with time to stroll around Killarney, maybe visit the impressive St. Mary's Cathedral near our hotel. Return by the Lakes of Killarney on the Ring of Kerry
Hotel: Killarney Plaza Breakfast & Dinner.
Day 9: May 27: After breakfast, depart Killarney and drive north to Bunratty. Afternoon at leisure. This evening join in the fun and feasting at a Medieval Castle, this Medieval banquet is served in the Great Hall of the 15th century castle during which you will be entertained with Irish songs and ballads.
Hotel: Bunratty Castle Hotel. Breakfast & Medieval Banquet Dinner

Day 10: May 28: After breakfast we will drive to Lahinch on the coast. Visit the Cliffs of Moher, they rise 700 feet above the sea and extend five miles along the coast. Continue to Lisconner for lunch and return to your hotel. Dinner on your own
Hotel: Bunratty Castle Hotel, Breakfast
Day 11: May 29: After breakfast, depart for the grand city of Galway including a scenic drive with highlights of the city with a stop at the famous Cathedral of Galway before checking into your seaside hotel. Dinner is on your own
Hotel: The Hardiman, Breakfast & Dinner
Day 12: May 30: Today you will travel to the unspoiled region of Connemarra and you will have a chance to visit the famous marble factory. The area is famous for their hearty breed of ponies. In the afternoon we will visit Cong and see where the "Quiet Man" was filmed and walk in John Wayne's footsteps before returning to Galway. Dinner is on your own.
Hotel: The Hardiman, Breakfast
Day 13: May 31: After a hearty Irish breakfast, we depart for Cabra Castle. Situated on lovely grounds with golf course, this converted castle has been extensively refurbished. Warm yourself 'with an Irish coffee in the lovely "old world" bar or intimate lounge by the inviting open fire. Enjoy dinner in the splendid restaurant with its unique collection of beautiful antiques and paintings.
Hotel: Cabra Castle, Breakfast & Dinner.
Day 14: June 1: We explore the Midlands, which is the cradle of Irish civilization and the Celt's spiritual home. This area was settled during the Stone Age and became the most important center of habitation in the country; the remains of ancient sites from this early Civilization fill the area. We will visit New Grange and have time for lunch in the charming nearby village of Ardee. We will return to the Castle with time to rest or golf or stroll around the breathtaking grounds.
Hotel: Cabra Castle Hotel, Breakfast & Dinner.

Day 15: June 2: After breakfast we depart for Dublin. Afternoon at Leisure to further explore the City.
Hotel: Radisson Blu Airport Hotel, Breakfast.

Day 16: June 3: After breakfast, RETURN TO THE UNITED STATES: Sadly, today your Irish vacation has come to its final day.
All Sightseeing Subject to Change
*Prices are per person, Land only. Minimum of 15 passengers required, subject to availability.